•Year started: 2003
•Location : Middle basin area of Shirakawa River in Kumamoto Prefecture
•Actor : Semiconductor manufacturer

Kumamoto City and surrounding municipalities depend on groundwater for 100 percent of its drinking water. The Kumamoto area[1], which spreads from the western flank of Mt. Aso-Somma out to the Kumamoto Plain and the surrounding plateau area, is known to have a recharging capacity of 640 million square meters per year of water, one-third of which rice paddies account for. The middle basin area of Shirakawa River (Kikuyo Town and surrounding areas), in particular, can recharge 5 – 10 times more water than other areas. In recent years; however, the groundwater level has lowered as a result of policy-driven reduced rice production and urbanization, which has increased asphalt and concrete surface that do not absorb as much water, in and around Kumamoto City.
A semiconductor manufacturer began operations at its plant in Kumamoto in October, 2001. This aroused local concerns over the impact that the cleaning process of a semiconductor plant pumping up large quantities of groundwater would have on the groundwater resources of the area. A proposal was brought forth by a local environmental NGO, "Kumamoto Environmental Net-Work," when it attended an environmental summit held by the company, mainly for group companies. It was welcomed by the company, therefore making it the first company in Japan to recharge groundwater and become water neutral – to "fully return the groundwater it used." The innovative groundwater recharge scheme was launched in cooperation with Kumamoto Environmental Net-Work, a local agricultural cooperative and land improvement districts, and has successfully evolved into covering a wider area, involving other local firms as well as the Kumamoto City government, which has incorporated it into the municipal water conservation program.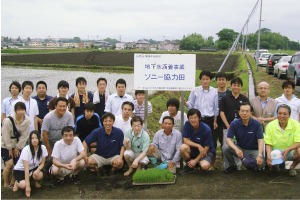 Photo: rice-planting in a field that is flooded
in wintertime with funding from the company
© Sony Semiconductor Kyushu Corporation
The semiconductor plant asks volunteering local producers to flood rice fields that are currently used for other crops due to the governmental policy to reduce rice-planting acreage between crops or organic rice paddies after harvest with water drawn in from the Shirakawa River to let it permeate back into the ground. The accumulated amount of water that has been used by the plant as of 2009 (9.8 million tons) has been successfully recharged (estimate of 11.6 million tons). Cooperating producers are paid a fee of 11,000 Japanese yen per 1,000 square meters to cover management and preparation costs.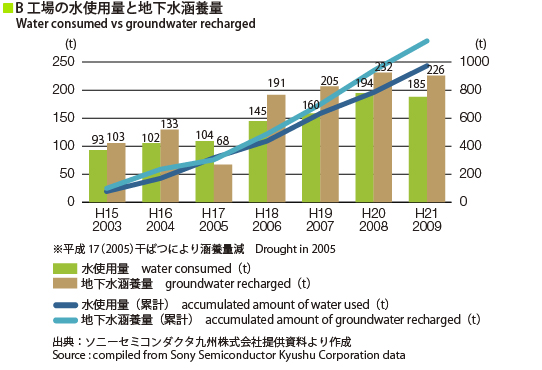 Studies by Professor Tsutomu Ichikawa of Tokai University's School of Industrial Engineering have revealed that the spring water in Lake Ezu[2] has recently resumed an upwards trend, indicating signs of recovery in Kumamoto's groundwater resources[3].
•Water offsetting
Consuming one kilogram of rice is believed to have the effect of recharging 20-30 square meters of groundwater[4]. By buying rice grown in fields that engage in groundwater recharge, consumers can indirectly contribute to recharging a relevant amount of groundwater, thereby offsetting the environmental impact imposed by using tap water.
Every year, employees participate in planting and harvesting rice grown with reduced pesticides and organic fertilizers in paddies owned by partner producers. By purchasing this rice for 430 yen per kilogram (conventionally grown rice[5] is sold for 300 yen per kilogram) and serving it at the employee cafeteria, the company has set an example of offsetting water through purchasing rice. In 2009, the rice was made available in 5-kilogram packages for individual employees. 535 kilograms were bought, therefore contributing to recharging 11,235 tons of groundwater.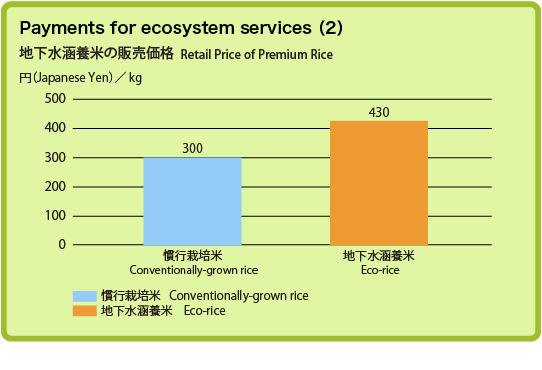 This undertaking has also expanded across the region. Some of the rice grown in the middle basin area of the Shirakawa River using reduced pesticides and chemical fertilizers (half of prefectural standards) is sold as "eco-rice,"[6] under the brand name "Mizu-no-Megumi" (Water's Blessings), launched by a voluntary group within JA Kikuchi. Kumamoto City also encourages its citizens to engage in water-offsetting.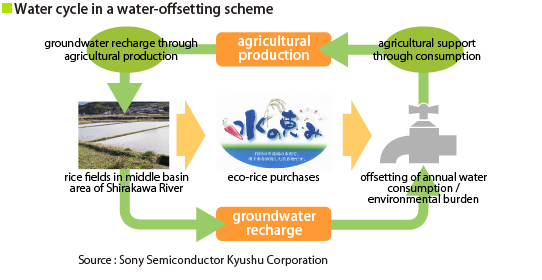 [1] Fourteen Municipalities, namely Kumamoto City, Kikuchi City, Udo City, Koshi City, Jonan Town, Tomiai Town, Ueki Town, Ozu Town, Kikuyo Town, Nishihara Village, Mifune Town, Kashima Town, Mashiki Town, Kosa Town (total population of 976,027 people in a total area of 1,041 square kilometers, as of 2005). Kumamoto City is the capital city of Kumamoto Prefecture and home to a population of 724,560 (as of July 1, 2010) people, or 40 percent of the prefecture's total population.
[2] Lake Ezu was artificially made in the Edo era by banking up the water of a wetland formed by spring water originating in the abundant groundwater resources of the region. Discharging approximately 400,000 tons daily (450,000 tons/day in 1992, decreased to 380,000 tons/ day in 2006), it symbolizes the rich water resources that Kumamoto City is blessed with. It is a favorite relaxing spot for the citizens of Kumamoto and is home to many important species. Professor Ichikawa has surveyed the volume of water discharge from Lake Ezu since 1991.
[3] "Signs of Recovered Groundwater Levels" Kumamoto Nichinichi Shimbun, July 10, 2009
[4] The estimated amount of groundwater recharged is divided by the amount of rice produced in order to derive the amount of groundwater recharged for each ton of rice references produced. For example, according to research conducted by Professor Ichikawa of Tokai University, the groundwater recharged in the four districts along the Shirakawa River that produced eco-rice in 2008 is estimated to be 5.887 million square meters. This, divided by 255 tons, or the amount of eco-rice yield, leaves approximately 26 tons of water offset per one kilogram of eco-rice produced. (NPO Environmental Net-Work Kumamoto (2009) Environmental Net-Work Kumamoto Newsletter No.70, p16)
[5] Agricultural methods using a standard amount of agricultural pesticides and chemical fertilizers as stipulated in regional guidelines determined by the local government.
[6] JA Kikuchi has yet to develop a system to separate rice grown by conventional methods from that grown with reduced agrichemicals. Therefore, a group of members producers of JA Kikuchi have launched a new brand "Mizu-no-megumi" to discriminate some of the local produce made with reduced agrichemicals on a volunteer basis. This brand not only covers rice but other vegetables as well.
•References
·Kumamoto Prefecture (2008) Comprehensive Plan for Groundwater Conservation and Management Appendix
·Sony Corporation (Environmental Promotion Department) (2008) Returning Every Drop of Groundwater Used through Rice Paddies: A Local Water Circulation Project Launched by SONY, eco press, pp.1-5
·Sony Semiconductor Kyushu Corporation (2008) Environment Report 2008
·Takemori,Yuji, and Tsutomu Ichikawa(2008)On Effect of Groundwater Recharge Evaluation by Keeping Water in no use Paddy field in the Middle Shira-River Area, Bulletin of School of Engineering Kyushu Tokai University, :1, pp.53-59 (abstract in English)
•Special thanks to
Sony Semiconductor Kyushu Corporation
http://www.sony-sckyushu.co.jp/region/index.html