We unconsciously enjoy many blessings of nature in our everyday lives. For example, the rice we eat everyday is grown in rice paddies, which prevent floods in times of heavy rain, lower the temperature on hot days and provide habitats for a diversity of creatures, including giant water bugs and killfish. Furthermore, rice paddies are an element of a nostalgic landscape that we appreciate. The functions that support these blessings of nature are called "ecosystem services."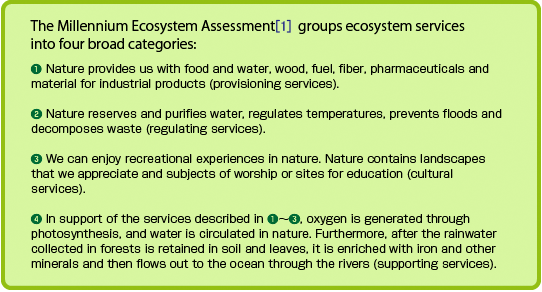 However, according to the Millennium Ecosystem Assessment, 15 out of 24 major ecosystem services, including capture fisheries, wood-fuel, genetic resources, fresh water and regulation of natural hazards are being degraded or used unsustainably. Such degradation of ecosystem services is the consequence of human-induced ecosystem alterations and is expected to be aggravated in the first half of the 21st century. Policies and measures must be significantly reconsidered in order to prevent such developments.
There are numerous causes for the degradation of ecosystem services, but one of the most important reasons is that their value has not been properly acknowledged, giving rise to overexploitation to the extent that their value and functions were undermined and not properly managed. In order to maintain the functions of an ecosystem, we must fully recognize their value and establish a framework that will enable the management required to maintain ecosystem services.
At present, we are globally short of funds to conserve and sustainably use ecosystem services and biodiversity[2] and new financing mechanisms are being considered and implemented worldwide. Payments for ecosystem services (PES) are one of these new schemes that have received much attention.

There is no PES definition that has been internationally agreed upon as of yet. However, the following can be referred to as the factors of PES (Wunder, 2005) :
1. a voluntary transaction where
2. a well-defined ES (or a land-use likely to secure that service)
3. is being 'bought' by a (minimum one) ES buyer
4. from a (minimum one) ES provider
5. if and only if the ES provider secures ES provision (conditionality).
Payments for ecosystem services were first introduced in the mid-1990s. An effective instrument to conserve ecosystem services, over 300 PES cases have been reported around the world (Hayashi, 2010). Some examples include a program to use gasoline tax revenues for forest conservation and a scheme where a private company requiring high-quality water pays livestock farmers who are willing to contribute to water conservation activities.

Many schemes resembling PES have developed in Japan for the ecosystem services of forests, Satoyama and water resources which include at least one of the factors above. This website will introduce some of these Japanese practices – the scheme and who (urban residents, consumers or companies) are paying the costs for nature's blessings or ecosystem services.
The website will also introduce other new efforts that also seek to conserve biodiversity and ecosystem services in financial frameworks or in urban design.
The cases studies here have been selected based on the results of Environmental Economics and Policy Studies (Biodiversity) for fiscal 2009.
Supervised by: Institute for Global Environmental Strategies (IGES)
Edited by: Global Environmental Forum (GEF)
[1]The Millennium Ecosystem Assessment was launched in 2001 with support from the UN. The first comprehensive assessment on ecosystems at a global level, it was conducted from 2001 through 2005. The project involved 1,360 experts from 95 countries, focusing on the services provided by ecosystems and revealed how they relate to human well-being and what impacts biodiversity loss would impose.
[2]For example, only one-third of the costs required to maintain and manage protected areas in developing countries has actually been allocated, with an annual shortage of funds of 1 – 1.7 billion US dollars. (Bruner A., R. Naidoo and A. Balmford (2008) Review of the costs of conservation and priorities for action in Review on the Economics of Biodiversity Loss: Scoping the Science.
ENV/070307/2007/486089/ETU/B2
•References
-Hayashi, Kiichiro (2010) The Basics of Biodiversity and Ecosystems and Economics, Tokyo:Chuohoki Publishing (available only in Japanese)
-Wunder, S. (2005) Payments for ecosystem services: some nuts and bolts. Occasional Paper No. 42. CIFOR. Jakarta,Indonesia