•Year started: :2003
•Location: Toyooka City, Hyogo Prefecture

Located along the Japan Sea coastline, Toyooka City has a population of 89,000 people in
an area of approximately 700 square kilometers. The city was once home to the
endangered oriental white stork, which is said to have become extinct in Japan, after having
been last seen in the wild in Toyooka City in 1971.
The main reasons for their extinction lay in the degradation of their habitat, a consequence of introducing modern rice farming methods for increased yield. Retaining water in rice paddies for a shorter period of time than in traditional methods (from several days prior to planting through several succeeding weeks, after which they are drained) and concrete irrigation and drainage systems that are cut off from the rice fields prevent fish and other aquatic creatures from coming and going. In addition, the pine forests, in which the oriental white storks build nests, had been logged during World War II. Furthermore, the use of agricultural chemicals not only diminished the small organisms that the oriental white storks fed on but also caused them to lose their productivity as toxic substances accumulated within their bodies.
Experiments to breed oriental white storks in captivity began in 1965. After 25 years of breeding in captivity, the first offspring was born in 1989, and the number of oriental white storks in captivity had increased to over 100 in 2005, when the city launched a pilot release program. In addition to such direct efforts to increase the number of storks, the city also promoted an agriculture-oriented project to restore their habitat, therefore successfully returning oriental white storks to the agricultural landscape of Toyooka. Sitting at the top of the food chain, the oriental white stork is a carnivorous indicator species that reflects the healthiness of an entire ecosystem. Therefore, restoring its foraging habitat was the key to its reintroduction. As a result of such habitat restoration, the wild population of oriental white storks has now increased to 35 as of 2009.

Photo: Flooding rice paddies in wintertime ©Toyooka City
Since 2003, in order to improve the habitat quality of the paddy field for various organisms of an entire ecosystem that would support the released oriental white storks, Toyooka City, Hyogo Prefecture and Japan Agricultural Cooperatives (JA) have jointly encouraged farmers to apply the "white stork-friendly farming method," which aims to increase organisms inhabiting the rice field by using a minimal amount of agricultural chemicals. Farmers are required to reduce pesticide use by 75 percent, if not entirely, and to use no fertilizers; to soak seed in hot water for sterilization against rice-borne diseases; to flood their paddies deeper and to retain the water in the paddies for a longer period of time compared with conventional farming methods in order to give tadpoles time to develop into frogs, and dragonfly larva, into dragonflies; and to flood their paddies in wintertime or one month before rice planting to allow sludge worms to form the slimy fecal layer that inhibits weed growth. In fiscal 2009, 212.3 hectares (approximately 7 percent) of rice fields are dedicated to this farming method. Toyooka City pays farmers who flood their paddies in wintertime and retain the water in their paddies for a longer period of time under the white stork-friendly method a commission fee of 7,000 Japanese yen per 1,000 square meters. Farmers who dedicate paddies currently not used for rice production to creating biotopes by constantly flooding them are granted a fee of 27,000 Japanese yen per 1,000 square meters.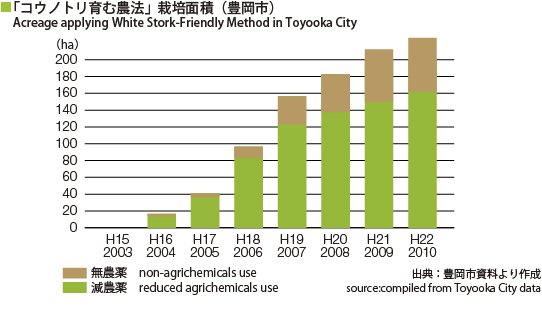 Efforts to reintroduce the oriental white stork have consequently enriched the biodiversity
of rice paddies – places of agricultural production. There have also been reports that with
support from local government and JA, these efforts have led to local revitalization through
increased agricultural income and an emerging ecotourism industry. The reintroduction of the oriental white stork is presumed to have had an economic impact of approximately 8 billion yen in terms of ecotourism-related construction and the conservation program and 1 billion yen annually owing to an increasing number of tourists.(Onuma and Yamamoto., 2009).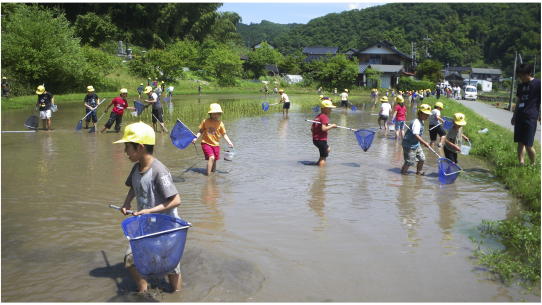 Photo: Children searching for "life in the rice paddy"(Rice Paddy Organism Survey) © Toyooka City
The white stork-friendly farming method uses only a minimal amount of agricultural chemicals. Hence, farmers applying this method lose approximately 25 percent of rice yield compared with conventional methods. However, in 2007, JA Tajima paid 23 percent more for rice grown with reduced agricultural chemicals and 54 percent more for that grown without agricultural chemicals. Some of the produce is sold directly to the market without distribution by JA, in which case the retail price is approximately 29 percent more for rice produced using reduced agricultural chemicals and approximately 71 percent more for that produced without agricultural chemicals. (Onuma and Yamamoto, 2009)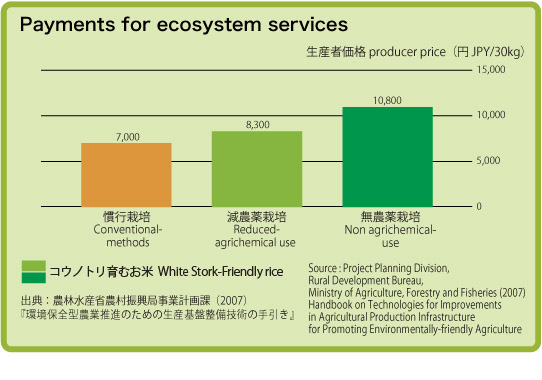 S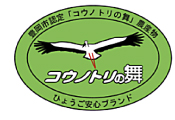 Certification systems effectively support environmentally-friendly agriculture. In 2001, Hyogo Prefecture launched a certification system to certify that products have been tested to contain only one-tenth or lower levels of agrichemical residue compared to national standards. Agricultural products satisfying the requirements are entitled the right to use the brand logo,"Hyogo Safe Brand." Furthermore, produce, including rice and vegetables that meet the requirements for the Hyogo Safe Brand and also have not used more than half of the amount of agricultural chemicals and pesticides applied in conventional farming can be sold with a "Flying Stork" label, which is certified by Toyooka City. (It should be noted that this labeling system is not to certify that products bearing the "Flying Stork" mark have been grown by the white stork-friendly farming method.)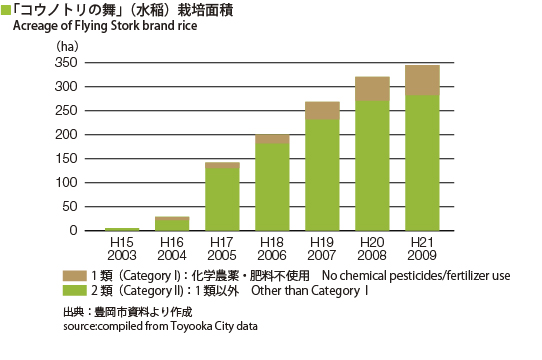 Toyooka City welcomes many visitors who come to witness its successful efforts to promote local development centered on coexisting with the oriental white stork. Not only domestic school children on ecological tours but also high school and university students from China and Russia and farmers and researchers from Korea come to learn about Toyooka's experience. Since 2006, Japan's largest travel agency sells more than 1,000 package tours that take tourists to see the oriental white stork in Toyooka, stay in Kinosaki Springs, savor Tajima beef and rice grown by the white stork-friendly method and sends them home with a souvenir of 500 grams of premium rice.
The growing number of visitors to the municipal museum also implies that more people are coming to see the oriental white stork.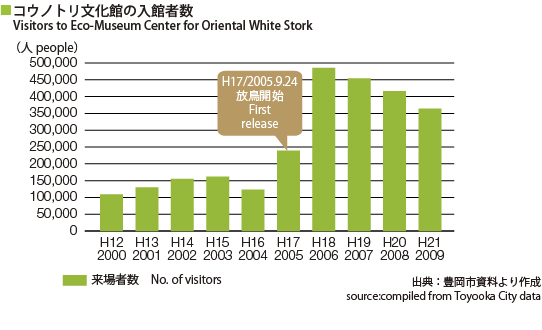 •References
· Onuma, and Masashi Yamamoto (2009) "Economic Analysis of Reintroducing Oriental White Stork to the Wild in Toyooka City, Hyogo Prefecture: The Economic Background of Cultivation Methods to Foster the Oriental Stork and the Impacts on Local Economy of Reintroducing the Oriental White Stork to the Wild" Mita Journal of Economics, 102:2, pp.3-22
· Toyooka Agricultural Extention Center (2009) White Stork Friendly Farming Method for Koshihikari Rice (pamphlet issued by Toyooka Agricultural Extention Center Tajima General Service Bureau, Hyogo Prefecture)
•Special thanks to
Toyooka City (Division of Oriental White Stork and Human Co-existence)