VEGETATION CHANGES SEEN FROM SATELLITE IMAGES
---
Satellite images taken at two different points in time provided the data to make changes in the vegetation map. The images show areas where vegetation has diminished in red, and areas where vegetation growth has increased in pale blue.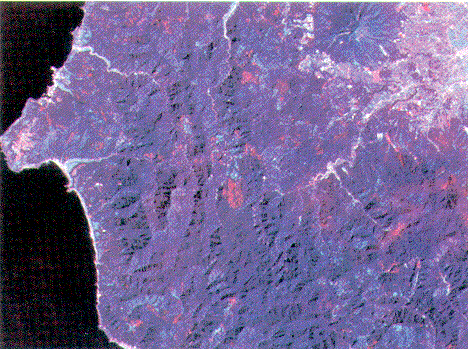 Shirakami-sanchi vicinity (9/19/80 -- 8/29/86)
The Saseto kurilensae-Fagion crenatae logged-over area in Aomori Prefecture has expanded.
The Akita Prefecture image shows a scattering of logged-over areas. Iwaki Mountain can be seen at the upper right.


---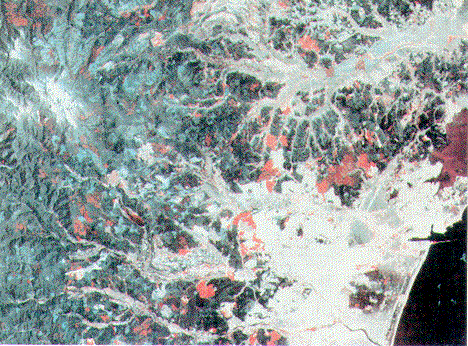 Sendai City vicinity (5/21/79 -- 5/21/87)
Areas of Quercus serrata communitiy can be seen in the city's vicinity. The deep red hilly area in the right center was burned over by a forest fire. At the upper left, a snow-capped mountain -- Mt. Funagata -- can be seen. That area is surrounded by logged-over area of Saseto kurilensae-Fagion crenatae.

---