ąŁShikotsu-Toya National Park 99,302 ha.:(May 16, 1949)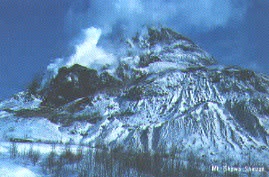 Located in south-western part of Hokkaido, Shikotsu Toya National Park consists of three separate areas, Mt. Yotei, Lake Toya and Lake Shikotsu. Mt. Yotei is popularly called as Mt. Ezo-Fuji because its shape resembles to Mt. Fuji.
Lake Shikotsu, one of the most beautiful lakes in Hokkaido, is encircled by active volcanoes such as Mt. Eniwa and Mt, Tarumae. North and south of the lake, there are famous Jozankei and Noboribetsu spas, respectively.
Lake Toya is a caldera lake surrounded by new volcanoes such as Mt. Usu and Mt. Showa-Shinzan which had risen from the plain as a result of successive eruptions since 1944. Toyako spa is located on southern shore of the lake.
The best time to see scenery and enjoy hot springs is from early summer to autumn, and hiking and camping are popular in summer season. The park provides good skiing grounds during winter season.

All Rights Reserved, Copyright Ministry of the Environment.