ąŁRishiri-Rebun-Sarobetsu National Park 21,222 ha.:(Sept. 20, 1974)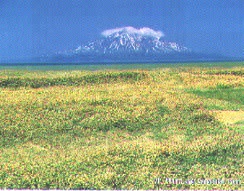 Rishiri Island, Rebun Island, Coasts of Wakkanai and Wakkasakanai and Sarobetsu Plain, locating at the north-western edge of Hokkaido, was designated as the 27th National Park in 1974.
Rishiri Island locates about 20 km off the shore of Hokkaido with a shape of almost round and 15 km in diameter. At the center of this island, volcanic Mt. Rishiri, 1721 m high, soars beautifully above the sea. The island is especially famous for its alpine plants.
Rebun Island, 10 km northwest off Rishiri Island, is 25 km long from north to south. The highest peak, Mt. Rebun is 490 m high, and this hilly island is also covered with field of many alpine plants and flowers. Western coast of the island with precipitous cliffs ero-ded by waves is showing an exciting landscape.
Wakkanai and Wakkasakanai coasts are featured with two long distance dunes and decorated with marshes and ponds.
Sarobetsu area embraces Sarobetsu Wetland and sand-dunes along the west coast. Sarobetsu Wetland is one of the largest ones in Japan and the vast bog areas studded with two lakes.


All Rights Reserved, Copyright Ministry of the Environment.