ąŁRikuchu Kaigan National Park 12,198 ha.:(May 2, 1955)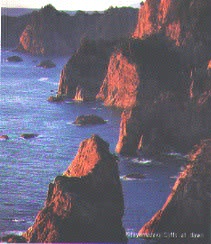 This park extends for 180 km from north to south along the coastline of the Pacific Ocean - a series of precipitous cliffs in the north and the much indented coastline in the south. The northern part was formed by an upheaval of the earth's crust, and the southern part by the crust sinking.
This park provides comfortable breeding sites for sea-fowls such as sea gills, petrels, etc.. Numerous flocks of sea-fowls hovering arround in the breeding season are a marvellous sight.
Off the seacoast, fish species of both warm and cold currents can be hauled, and saury fishes, which Japanese people are very fond of, are very popular.
Japanese red pine forests, extending close to the seasides, are one of the most beautiful scenery in the park, and thick forests of ever-green Tabunoki (Machilus Thunbergii) can be observed in the southern part of the park.

All Rights Reserved, Copyright Ministry of the Environment.