ąŁOgasawara National Park 6,099 ha.:(Oct. 16, 1972)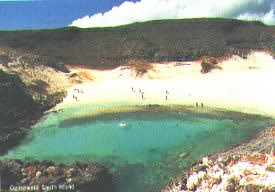 This southernmost national park consists of Ogasawara (Bonin) Islands, located about 1,000km south of Tokyo. Located between tropical and subtropical zones, this Park boasts of magnificent oceanic islands and coastal scenery. Due to the rich variety of fauna and flora which are unique only to this area, this park plays an increasingly important role in the world's academic research field on biological diversity. And also this park offers beautiful seascapes through seven designated areas as "marine park zones".
Iwojima Island is summit area of a submarine volcano emerging above sea level. The other islands of the park are also volcanic origin. In the Senjin-iwa area of Chichijima Island and Ookuzure Bay of Hahajima Island, we can observe many large scale cliffs, eroded by wave. Minamijima Island of the Chichijima Island group has karstic type landforms. Numerous virgin forests of subtropical trees are still found on every island of the national park. Chichijima Island can be accessed only by ship from Tokyo for about 30 hours, which has been known as an ideal holiday and recreational resort.

All Rights Reserved, Copyright Ministry of the Environment.