ąŁNikko National park 140,021 ha.:(Dec. 4, 1934)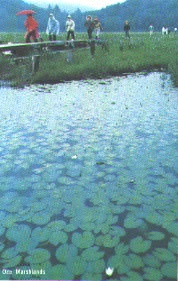 This is one of the most beautiful parks in Japan. Historic heritages such as shrines and temples there harmonize with the excellent natural scenery, and a number of foreign tourists enjoy the Japanese culture and traditional art.
Among the Nikko mountains, famous ones are Mt. Okushirane (2,578m), Mt. Nantai, Mt. Nasu, and Mt. Hiuchi. On the summit of Mt. Nantai, there is a volcanic crater. Numerous plateaus, rivers, cascades, water-falls, lakes and deep forests are forming together picturesque landscapes. Ozega-hara, the highest moorland in Japan, is particularly beautiful when Mizu-basho (Lysichiton camtschatcense) and other moor-plants bloom from June to July.
In addition to such natural beauty, Nikko has the finest handwork of artisan for mausolea. Toshogu Shrine and Rinnoji Temple are the best representative of magnificent structures there in perfect harmony with natural beauty. There are also many hot springs, and hiking, camping, skiing, skating and fishing are very popular in this park.
The park can be reached in a couple of hours from Tokyo, and roads and hotels are well accommodated.

All Rights Reserved, Copyright Ministry of the Environment.