ąŁJoshinetsu Kogen National Park 189,062 ha.:(Sept. 7, 1949)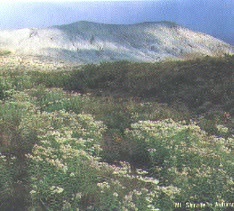 This park is blessed with many volcanoes, plateaus, lakes, forests and alpine plants and is highly valuable in terms of recreational activities.
The central part of the park is traversed by a series of steep mountains, such as Mt. Tanigawa, and volcanic Mt. Asama and Mt. Shirane, extending to Shiga, Myoko and Karuizawa plateaus. Hot-spring resorts also flourish in this park. Mountaineers, hikers and visitors at hot springs are many. This park offers Japan's most attractive skiing grounds, and is extraordinarily beautiful when mantled in fresh verdure and ablaze with autumnal tints. Many Japanese serow and Japanese deer are seen, and the Togakushi district is particularly rich in wild birds.
Shiga Highland area, the center part of this park is also designated as the Biosphere Reserve of UNESCO's MAB programme.

All Rights Reserved, Copyright Ministry of the Environment.