ąŁIriomote National Park 12,506 ha.:(May. 15, 1972)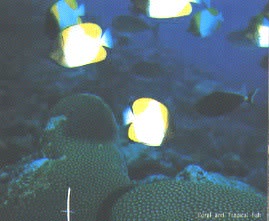 Iriomote National Park is the west-southern most national park in Japan. Main part of the park is Iriomote Island, located some 1,200 km south of Kagoshima City in the East China Sea. Iriomote Island is densely covered with virgin forests of subtropical trees such as mangrove, oak and pasania, and is also famous as the habitat of indigenous Iriomote Wild Cat. This rare mammalian species was found and reported in this 20th century.
Beautiful, 20 km east west and 15 km north south, coral lagoon stretches between Iriomote Island and Ishigaki Island which is the largest coral lagoon in Japan. It also provides the most beautiful marine park zones of Japan. Nakanougan Island is famous as the home of large sea birds. Fascinating white sand beaches, steep lime cliffs with rich variety of coastal flora, and unique stone fenced local housings... all of them form together magnificent views. This national park can be accessed by ships from Ishigaki Island. There are air flight services from Japan's main island to Okinawa and Ishigaki islands.

All Rights Reserved, Copyright Ministry of the Environment.