ąŁFuji-Hakone-Izu National Park 121,850 ha: (Feb. 1, 1936)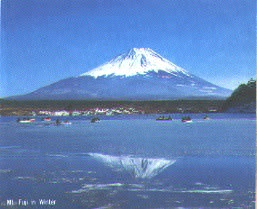 Mt. Fuji is the highest peak (3,776m) in Japan and a graceful and solitary conic-shaped volcano. Perhaps it is one of the most celebrated mountain in the world. Through many times eruptions, Mt. Fuji has formed its beautiful shape, having five dammed lakes at its north foot field.
Hakone is a large-scale double formed volcano, with clearly remaining central cone and somma. Lake Ashinoko is an atrio (crater floor) lake. Hakone area has a lot of hot springs.
Amagi mountain range, situated in the central part of Izu Peninsula, is covered with luxuriant primeval forests, and affords wonderful views. There are many hot springs along the seacoast, and both transportation and accommodations are satisfactorily well arranged.
Izu-Shichito or Seven Isles of Izu lie off Izu Peninsula. They have subtropical characteristics and Oshima Island and Hachijo-jima Island can be reached from Tokyo by both ships and aircrafts.
This park, easily accessible from Tokyo, is being utilized by many holiday-makers, and recreational facilities are well accommodated.

All Rights Reserved, Copyright Ministry of the Environment.