ąŁDaisen-Oki National Park 31,927 ha.:(Feb. 1, 1936)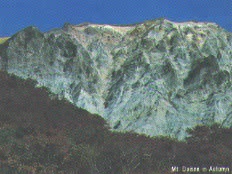 This park, situated in the northern part of the Chugoku district, which has Mt. Daisen as its center and a cluster of surrounding mountains, including Mt. Hiruzen and Mt. Sanbe. The park also includes Shimane Peninsula facing to the Sea of Japan and the Oki Islands.
Mt. Daisen, the highest mountain (1,729m) in the Chugoku region, is also a tholoide style volcano, whose cliffs and virgin beech forests are magnificent. At the Shimane Peninsula, there are Izumo Taisha (Great Shrine), one of the oldest shrine in Japan, and many other cultural heritages.
Oki Islands lies north of the Shimane Peninsula, affording beautiful seascapes including bluffs and caves.
The best season to visit this park is from spring to autumn, and there are many spas in and arround the park such as Kaike, Tamatsukuri and Sanbe. The slopes of Mt. Daisen are the best skiing grounds in the western park of Japan during winter. Hiking and camping are also very popular.

All Rights Reserved, Copyright Ministry of the Environment.