ąŁChubu Sangaku National Park 174,323 ha.:(Dec. 4, 1934)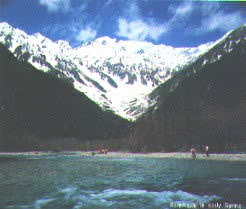 This park is popularly called as Japan Alps National Park which comprises more than 100 peaks. With glacial cirques and sharply-cut valleys, a series of over 3,000m high mountains present really spectacular scenery. Ravines and lava plateaus are branching out from these mountains. Their summits and plateaus are covered with alpine fauna and flora. Mountainslopes are covered with primeval forests of coniferous trees and deciduous trees. Many rare animal species such as golden eagles, ptarmigans and alpine butterflies, are inhabiting in these mountains. Many hot springs are available at the foot of mountains.
These mountains and valleys provide nice grounds for mountaineering, rock-climbing and camping, and summer skiing is also enjoyable in some summit areas. Ravines are most beautiful in fresh verdure and autumnal tints. Transportation to be foot of mountains is available, and sightseeing excursions are very much enjoyable.

All Rights Reserved, Copyright Ministry of the Environment.