ąŁChichibu-Tama National Park 121,600 ha.:(July 10, 1950)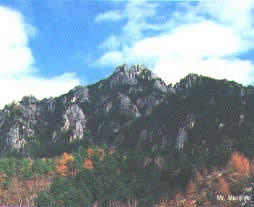 This park embraces mountains, valleys and forests located in north-west of consists of Chichibu mountain range (1,500 to 2,600m above sea-level), Tama mountain range (600 to 1,500m), and Shosen-Kyo Gorge.
This is one of the typical mountain parks consisting of sedimentary rocks and Japan's oldest strata. Steep mountains, deep valleys, limpid streams, and dense forests are forming serene and magnificent landscapes.
The park affords a fine view of Mt. Fuji and the Southern Alps. People visit here mainly for mountaineering, hiking, camping and fishing. Mt. Mitsumine, Okutama Gorge and Shosen-Kyo Gorge are now very good recreational sites for a daytrippers from Tokyo metropolitan area.

All Rights Reserved, Copyright Ministry of the Environment.