ąŁBandai-Asahi National Park 187,041 ha.:(Sept. 5, 1950)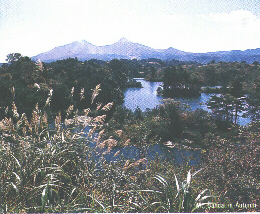 This is the third largest park, next to Daisetsuzan in Hokkaido and Joshinetsu Kogen in Honshu island. Mt. Bandai (noted for its eruption with dam-made lakes), Azuma volcanic group, Asahi mountain range rich in alpine plants, religious Mt. Dewa-Sanzan, beech-covered Mt. Iide - make this park very attractive and rich in variety of mountains.
The upper parts of Asahi, Dewa-Sanzan and Iide are covered with deep snow through most of the year, where skiing in early summer is possible. And we can see many white-clad religious devotees are going up Dewa-Sanzan in summer. This park is also rich in wildlife such as black bears, monkeys and Japanese serows.
Approaching transportation to Bandai, Azuma and Lake Inawashiro is very convenient, and hiking, camping and skiing are very popular there.

All Rights Reserved, Copyright Ministry of the Environment.