ąŁMinami Alps National Park 35,752 ha.:(June 1, 1964)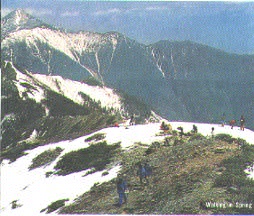 Minami (means South) Alps National Park and Chubu-sangaku National Park are the most representative mountainous parks in Japan, formed by sedimentary rocks. Although lacking of mural cliffs and snowy valleys which can be seen in Chubu-sangaku National Park, spurs or clusters of peaks in Minami Alps range attain 3,000m elevation above sea level. Mt. Kitadake (3,192m) in this range is the second highest peak next to Mt. Fuji Natural environments is well preserved, with fir and hemlock forests covering mountainsides and abundant Japanese serow, ptarmigans and other animals.
Mountaineering is only the way to approach this park. The best season for mountaineering is form July to August. Valleys are beautiful in June when robed in fresh verdure and also in October when leaves are tinted.

All Rights Reserved, Copyright Ministry of the Environment.